COVID-19 Information
This page will be updated with information on the preparation of our school in relation to the coronavirus outbreak.
Risk Assessment
As you are aware schools are receiving regular updates from the Government regarding the full opening of our schools .
The Trustees of WNAT, of which Snettisham Primary School is a part of, are holding regular meetings with members of the WNAT Executive team to ensure that our risk assessments are up to date with any new government legislation.
The following link will take you to the latest version of our Risk Assessment:
WNAT Risk Assessment - COVID-19
This risk assessment has been applied to our school, ensuring that every member of our staff is clear on their role and the schools procedures.
However, it is important to understand that this document is live and will be updated regularly to ensure that it reflects the latest government guidance.
If you have any queries regarding this then please do not hesitate to contact the school direct.
Public Health England
Letter for parents about COVID-19 symptoms - 23 Sept 2020
Public Health England have produced a letter for schools to distribute to parents which explains when a person requires a coronavirus test and what the symptoms of coronavirus are.
The intention of the letter is to help prevent children being taken out of school unnecessarily and answer some of the questions parents may have around testing.
The below slides may also be of help to ascertain if your child has symptoms and requires a test: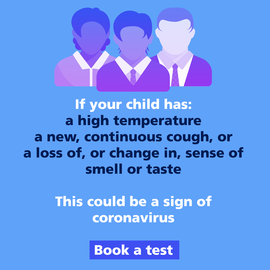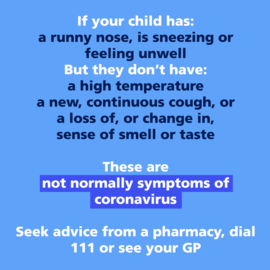 Parent Information
Full Reopening of School - Monday 8th March 2021
Letter for Parents of Close Contacts of COVID-19 at Snettisham Primary School
Parent Letter - Returning to School in September 2020
Useful Websites and Documents
Department for Education Coronavirus helpline
Call the helpline to ask questions about COVID-19 related to education.
Staff, parents and young people can contact the helpline as follows:
Phone: 0800 046 8687
Opening hours:
8am to 6pm (Monday to Friday)
10am to 4pm (Saturday and Sunday)
Email: DfE.coronavirushelpline@education.gov.uk
If you work in a school, please have your unique reference number (URN or UK PRN) available when calling the helpline.
The Importance of Hygiene
Personal hygiene is the most important way we can tackle COVID-19. Please help us in sharing simple and effective hand hygiene messages.
Public Health England have published a poster with advice on the Coronavirus and how we, as a school and a community, can help stop the spread. To download please click on the link below:
Public Health England - Advice on the Coronavirus for places of Education - Poster