Buffaloes in Snettisham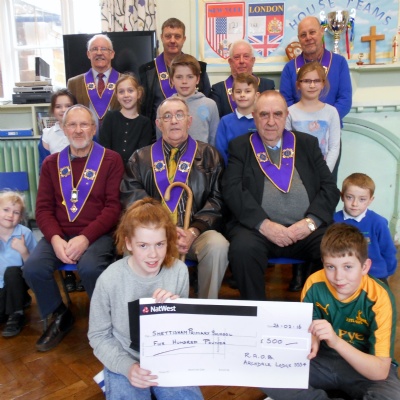 Pupils at Snettisham Primary School were delighted to welcome a "herd" of Buffaloes to their school on Friday February 26th, the Buffaloes in question being members of the Archdale Lodge of the Royal Antediluvian Order of Buffaloes. The Lodge presented the school with a cheque for £500 and the pupils were really excited about what they might use the money for. The School Council will be meeting to discuss all ideas but the favourite is to have some new playground markings.
In presenting the cheque, Graham Robinson, pictured centre of the front row, explained that he had been a pupil at Snettisham. His headteacher had been a Mr. Thomas who was prone to use the cane on any pupil who was not working hard enough. Mr. Robinson admitted that he had been on the wrong end of a cane across the hand on several occasions!
Lee Stevens, Executive Headteacher (and not prone to use any corporal punishment), said "I was delighted to be informed by the Buffaloes that they had nominated Snettisham Primary School and I know the pupils will be putting the very generous donation to good use. Everyone connected with the school would like to thank Archdale Lodge for their donation."